Niebla siphonoloba is a fruticose lichen frequently found on volcanic rocks along the Pacific Coast from the Vizcaíno Peninsula of Baja California to the Channel Islands, California. The epithet was chosen for its 'pipe-like' or 'bent tubular' basal branches sparingly divided into secondary branches that hardly differ from the primary branch. Thus, unlike many species of Niebla, N. siphonoloba does not produce distinct fragmentation branchlets. Its deeply crateriformed cortex and terminal and subterminal mouth-like apothecia gives this lichen the appearance of a life form from another world. The apothecia sometimes appear to 'smile,' others 'laugh,' while still others seem to be 'clamming-up.'
Niebla siphonoloba is most similar to N. rugosa, which is easily distinguished by its secondary metabolite of divaricatic acid, in contrast to sekikaic acid in N. siphonoloba. Additionally, N. rugosa has sharply angled branches, especially in the upper half of the thallus, undivided transverse cortical ridges that connect between the longitudinal ridges in which areoles (spaces) appear rectangular, compared to sinuous areoles of N. siphonoloba, and it has apothecia cups situated on saucer-like bases.
Niebla siphonoloba was first discovered in a Niebla community on the Vizcaíno Peninsula near Arroyo San Andrés, represented by only sekikaic acid species, N. lobulata, N. suffnessii and N. usneoides. Niebla siphonoloba was recognized by its mostly simple basal lobes and subterminal scattered apothecia. Niebla lobulata was distinguished by its flattened branches with lobulate to broadly lobed margins. Niebla suffnessii was identified by its numerous long whip-like branchlets, and N. usneoides was easily identified by its abundant isidia.
A community of Niebla species almost exclusively dominated by sekikaic-acid thalli such as found on the Vizcaíno Peninsula is rare, while partial segregation of chemotypes by habitat type have been reported from near Punta Canoas (Spjut 1996), volcanic slopes near Bahía de San Quintín (Rundel et al. 1972), and near El Tomatal (Sipman, Willdenowia 19: 543–555, 1990).
Niebla siphonoloba has been found growing with N. lobulata and N. marinii at Morro Santo Domingo, N. podetiaforma, N. lobulata, and N. flabellata along the shores of Bahía Santa María, N. suffnessii, N. lobulata, and N. usneoides on Mesa Camacho, and N. josecuervoi at Bahía de San Quintín.
On Santa Cruz Island, specimens referred to Niebla siphonoloba, as shown below for one (Bratt 6426) of many studied from Ragged Mt., have more basal branches with a cortex that is crateriformed instead of the sinuous ridging seen in the Baja California specimens. This variant from Santa Cruz Island, possibly a distinct species, appears related to the densely branched N. dactylifera on San Nicolas Island. However, it also intergrades with N. fimbriata on Santa Cruz Island (e.g., Bratt 6436, Photo 12.3 in Spjut 1996), distinguished by the strongly arched basal branches with intact fimbriate branchlets, while sharing the craterformed cortex as also seen in N. dissecta. These Channel Island species probably represent a sekikaic acid species complex that has undergone adaptive radiation since their isolation from the mainland species and may have occasionally hybridized, including also the related N. cornea and N. disrupta.
Niebla sinuata Spjut ineditus is distinguished by the sinuous cortical ridges and lobulate margins.
Niebla siphonoloba appears supported from the type locality, collected on top surface of volcanic rocks on mesa north of Cerro Elephante, as shown in the 6-loci phylogeny, and that of N. suffnessii collected nearer Cerro Elephante where it has since vanished from the volcanic cone as a result of climate change.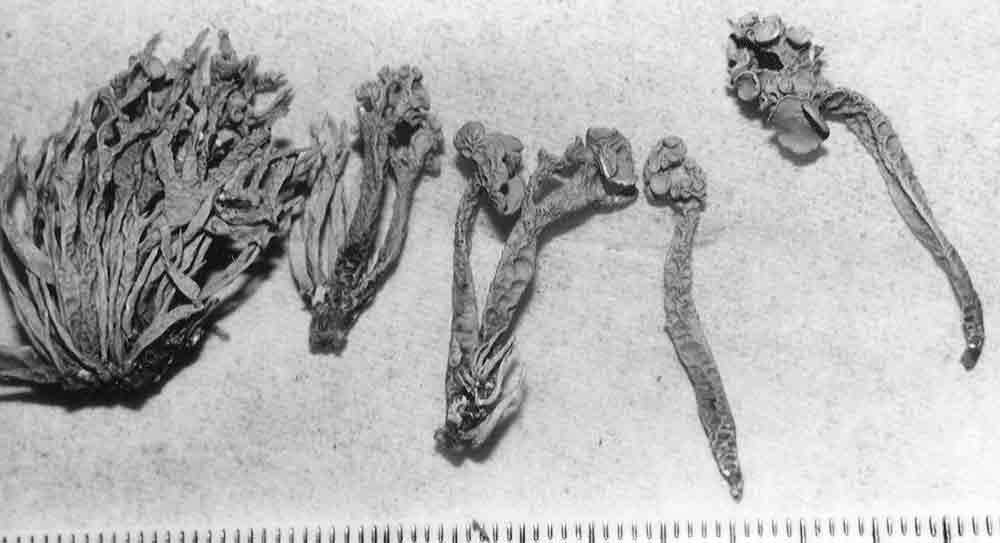 On Mesa Camacho, an undescribed species, referred to as N. sinuata, differs by the intermarginal sinuous lobes and apothecia developing further below the apex.
Additional Reference:
Rundel, P.W., P.A. Bowler & T.W. Mulroy. 1972. A fog-induced lichen community in northwestern Baja California, with two new species of Desmazieria. The Bryologist 75: 501–508.
Further References: See Niebla.