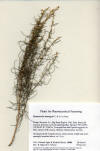 Hymenoclea monogyra
Big Bend Natl. Park, TX
Spjut & Marin 14509, Nov 2001
Hymenoclea salsola, Sonoran Desert, CA
USDA Procurement Record for Cancer Research
Trees and Shrubs of Kern County (Sep 2012)
Hymenoclea salsola Torrey & A. Gray 1849 var. salsola Cheesebush, Burrobrush [Ambrosia salsola (Torrey & A. Gray) Strother & B.G. Baldwin 2002; includes Hymenoclea salsola var. fasciculata (A. Nelson) K.M. Peterson & W.W. Payne]. Densely branched, about as broad as high, rounded in outline, 0.5–1.5 m; leaves alternate, narrow linear, needle-like but not stiff, slightly hooked near the tip, arched, or down-curved from the mid region; male and female flowers in separate heads on the same plant; fruits often persist to the winter, with horizontal thin whitish or rose skirts around each pericarpium, which might be mistaken for petals, the flaring skirts often torn or ragged along the edges. Common in the desert below 5,000 ft, especially in sandy and gravel washes; southern Utah to Arizona and California, south to Vizcaíno Peninsula in Baja California. Cheesebush scrub recognized in MCV2 when >5% absolute cover in the shrub canopy with no more than 3% emergent desert lavender or smoke bush, which are not in Kern Co., or >2% absolute cover in the shrub canopy not exceeded by other shrubs, or >1% absolute cover with other shrubs less than half the cover. Type from uplands of the Mojave River, San Bernardino Co., CA. Kern Co.: Mostly desert, but also in the Valley such as near Maricopa, Taft, mouth of Kern Canyon, to the southern Temblor Range west to Cuyama Valley (Twisselmann), 121–1,524 m (CCH). A twig-leaf sample collected by Spjut from near 29 Palms (SPJ-2055, HSC, NA) showed KB antitumor activity (14 Jun 1973); ambrosin, a sesquiterpene lactone, was isolated from a recollection (Torrance, Wiedhopf and Cole Jr, 1975, J. Pharm. Sci. 64: 887-8).
References on Pharmacological Activity in Hymenoclea
Torrance S. J., R. M. Wiedhopf and J. R. Cole. 1975. Ambrosin, tumor inhibitory agent from Hymenoclea salsola (Asteraceae). J. Pharm. Sci. 64(5): 887–888.