Trees and Shrubs of Kern County (Jan 2013, May 2014, July 2015)
Ephedra. Much-branched shrubs climbers or small trees to 4.5 m (Price 1996) with photosynthetic (green) stems arising from a brownish woody branched root-stem complex, or rhizome, appearing leafless except for deciduous non-photosynthetic scale-leaves, or scale-leaves photosynthetic in part, 2–3 (-4) per node, yellowish or brownish in color; greenish stems jointed, longitudinally grooved, often with whitish dotted lines along the intervening ridges, branchlets appearing opposite along a main axis, or in whorls, or fascicles, or dichotomously divided; scale-leaves in opposite pairs of 2, each pair at right angles to the pair above or below (decussate), or in whorls of 3, partially fused around base, persistent or partially to entirely deciduous. Male (pollen) and female (ovulate) cones usually on separate plants, occasional plants of a species bisexual (monoecious, cones still unisexual), or some species predominantly monoecious (Price 1996); male cones (1-) 2–10 at branch nodes, each cone with opposite or whorled sets of scale-like bracts overlapping in a graduated series, except for the lowermost (proximal), each bract overlying two fused bracteoles (calyx-like or perianth) from within which arises 2–8 "stamens," with filaments united (sporangiophore), terminating in a cluster of 1–8 bilocular pollen sacs, often exserted slightly beyond the cone bract; female cones up to 10 per node, with fewer scales than males, uppermost (distal) pair or whorl fertile. Fruit with 1–2 or rarely 3 seeds, each seed enclosed by hardened bracteoles further surrounded by fleshy scales in ~37 spp. (Stuppy unpubl. review, 55 species); arcesthida fruit type in Spjut 1994, subsequently an ephdroid carpidium (not winged, dry), further differentiated as an ephedroid sarcocarpidium when scales fleshy (white, yellow, red, purple), or an ephedroid pterocarpidium when scales winged and dry in ~7 species (Stuppy & Spjut in prep.), winged and fleshy in 2 spp. (Stuppy). ±59 species, 30 Euro-Mediterranean to China, 13 western N America, 12 in the Andes (Price 1990); 7+ native and 1 nonnative in California, 3–9 in Kern County.
Ephedra species have been used for approximately 5,000 years in Chinese medicine; perhaps most documented is "Ma-huang" that includes E. sinica, E. equisetina, and E. intermedia, the stems employed for treating fever, nasal congestion, and asthma (Caveney et al. 2001). In North America, seven species used medicinally by native Americans (Moerman); E. californica and E. nevadensis are examples of species used in Baja California for treating kidney ailments (Villanueva-Almanza 2011). The alkaloid ephedrine, generally employed for treating asthma, and also as a stimulant by athletes (Mabberley), is commercially extracted from stems of Eurasian species; the New World species apparently deficient in ephedrine alkaloids.
Among 73 extracts of Ephedra species screened by the NCI (1960–1982, seven were active from samples collected in Pakistan, Turkey, Arizona, and California, mostly aqueous extracts in tumors sensitive to tannins. However, neuroactive amino acids with cyclopropyl ring structures and quinoline-related tryptophan derivative—that have been reported in Eurasian and New World species—may account for their historical use in Old and New World traditional medicines (Caveney et al. 2001). Also, a diversity of endophytes thrive in the Ephedra stems that include gall midges (Lasioptera spp., Boeklen & Hoffman 1993) and bioactive fungi (Huang et al. 2008). Fusarium oxysporum was isolated from Ephedra fasciculata and found to contain a depsipeptide (beauvericin 29) that was active against four different cancer cell lines, NCI-H460 (human non-small-cell lung cancer), MIA Pa Ca-2 (human pancreatic carcinoma), MCF-7 (human breast cancer) and SF-268 human CNS cancer—glioma (Turbyville et al. 2006). Another fungal endophyte, Chaetomium chiversii, isolated from the same Ephedra species, contained radicicol 38 that has antiproliferative activity against breast cancer cell line MCF-7 (Zhan et al. 2007).
The taxonomy of Ephedra by Ickert-Bond (JM2) expands previous interpretations of Ephedra funerea and E. aspera (Cutler 1939, Munz & Keck 1959; Griffin in JM1), while the same characters still apply. These include ephemeral (seasonal) leaves and seeds that usually develop in the spring. However, leaves are not always evident on a plant, or even in a population of plants, during the spring growing season when cones are developing. Some species appear to produce leaves and cones at different stages of growth, or in different season (summer, autumn, or winter), or possibly on separate plants. For example, Ephedra viridis observed near Walker Pass during spring (Mar–May) coning periods over a five year period lacked leaves, but the same plants were found to have leafy stems following a summer rain in July 2015; similarly, E. californica was observed with leafy stems near Caliente, July 2015. But E. nevadensis in Tehachapi Mts along Willow Springs Road did not have leaves. Coning periods have been noted by Stevenson (FNA 1993) for North American species, but not leaves as generally the case in floristic treatments. Nevertheless, the scale-leaf character of opposite vs. whorled is first used to separate species. Seed characters such as number (1 or 2–3 seeds per cone), shape and color are further required; however, ephedras are usually dioecious, thus, other character features are needed to identify male plants.
Cutler (1939) indicated species can be identified by stem anatomical characters such as number of vascular bundles, number of hypodermal fiber strands, number of cells in a fiber strand, and number of stomata per sq mm; however, counting stomata per sq mm such as 108 cited for E. torreyana vs. 84 for E. funerea, for example, does not seem practical. Furthermore, species variation of these character features were not described.
Although California is reported to have six native species (JM2), E. torreyana is an additional species that has been found in the Death Valley region (Sanders et al., CCH specimens, 2011, 2012). Also, Villanueva-Almanza and Fonseca (2011) reported E. antisyphilitica in Mexico near the California border, Mexicali and Ensenada; thus, the latter may be in California. Ephedra torreyana, which reportedly hybridizes with other species (Stevenson 1993), is distinguished by the pale orange sword-shaped nerve on the ovulate bracts and scale-leaves, in contrast to a weak defined yellowish green nerve in E. funerea leaves that become white papery and shredded with age. Scale-leaves of E. trifurca have a similar orange nerve that differs in being narrower and longer and not curved backwards (recurve) from the tip in age as in E. torreyana; instead, it shreds with age as in E. funerea, and E. trifurca can also be distinguished by the rigid branches ending in a sharp spine. Ephedra antisyphilitica, not likely to occur in Kern County, is distinguished by fleshy bracts that surround the seed.
In Kern County, three species are fairly common, Ephedra californica, E. nevadensis, and E. viridis. A helpful character to separate them is the angle of branching, nearly at right angles in E. nevadensis, in sharp contrast to ~30° in E. viridis in which its branches appear erect and almost parallel to one another for most of their length. The angle of branching in E. californica, ~45° (Cutler 1939; Stevenson 993), is thus intermediate between the two other species, while their erect to spreading growth resembles E. viridis; however, the scale-leaves, when present, in three's identifies E. californica.
Ephedra aspera has been reported near the County line along Hwy 58, while I have only seen E. nevadensis in the region—where locally common in creosote scrub (Larrea tridentata shrubland alliance); however, I have identified E. aspera in upper Jawbone Canyon based on persistent leaf characteristics similar to an illustration of the species in Powell (1998), and to one of two leaf types seen in the isolectotype (US), which also has sheathlike leaves, neither clearly evident in a male syntype. Sheathlike leaves are seen in a type for the putative hybrid, × E. arenicola, which has 2-seeded cones, in types for E. aspera and E. antisyphilitica as illustrated by Powell (1998). Ephedra species have not been described to have more than one kind of leaf. Two leaf types on a plant also evident for E. viridis in Kern County..
An ephedra found in Erskine Creek Canyon and northeast of Tehachapi along the Pacific Crest Trail is vine-like with long pedunculate (stalked) cones. These features suggests E. pedunculata, a species known primarily from southern Texas and northern Mexico. Although E. pedunculata is morphologically distinct, its relationship to other North America species, or to South American species, is not clear (Ickert-Bond 2004); thus, reference to its occurrence in Kern County is questionable.
Along the Kern River near Lake Isabella, Ephedra cf. nevadensis, is tentatively assigned to that species by the membranous colorless paired leaves and 2-seeded cones. It differs from the typical form of the Nevada ephedra in minor features such as stems mostly erect parallel (not wide spreading and interwoven), olive green color (not strongly glaucous), by the photosynthetic stems arising from a rhizomatous or stoloniferous network of prostrate woody stems, and by the branches not in whorls. Occurring with this (Ephedra cf. nevadensis) is Ephedra cf. viridis, differing slightly from the common form by shortly stalked seed cones, aborted development of one of the two seeds, evident by absence (1-seeded cone) or by size, and by the occasional development of green linear photosynthetic leaf parts, either from the axils of nonphotosynthethic scale-leaves, or from their tips, appearing to soon wither and drop.
An ephedra found in Squirrel Canyon south of Lake Isabella is referred to E. arenicola based on a type specimen of a plant found in Apache Co. AZ (Cutler 1939, ×E. arenicola), where it was considered a putative hybrid between E. torreyana and E. cutleri It differs from the Squirrel Canyon ephedra in the absence of persistent scale leaves that in the type (E. arenicola) are similar to those of E. aspera.
Two undescribed species of Ephedra are proposed in Kern County, referred to as Ephedra sp. A as found in Erskine Canyon, on Piute Mt., and north of Caliente below Stevenson Peak, and Ephedra sp. B photographed in Box Canyon near Stevenson Peak. The latter also in Inyo Co. near Darwin (pers.obs. May 2015), and evident in Calphotos, an image reportedly of a plant in Washoe Co., NV.
If the proposed species are not recognized; i.e., one attempts to accommodate the variation in a key that generally defines the three common Kern County species, it becomes difficult to define any species of Ephedra in Kern County. The best solution is to treat them as separate species or varieties.
A study on the molecular phylogeny of Ephedra (Ickert-Bond 2004), which included a few representative individuals of most species, assessed their overall relationships as related to morphological characters that defined sections of the genus. Further phylogenetic studies are needed on DNA of Ephedra species across their range of ecotypes to assess morphological and genetic species variation in order to define the character traits that best fit the species. For example, E. viridis occurs in the Western Transverse Ranges, Inner Coast Ranges, the Temblor Range, Tehachapi Mts., Kern River Canyon, Greenhorn Mts. of the Sierra Nevada, and canyons in the Sierra Nevada along the western margin of the Mojave Desert, ranging in elevation from 366 to 2028 m (CCH). They show morphological differences as already mentioned; however, the species may not show genetic differences (Ickert-Bond 2004). Moreover, Ickert-Bond (2004) indicated "maximum likelihood tree of nrDNA ITS1 data" for two samples of Ephedra coryi from Texas did not cluster; similarly, E. torreyana and its variety powelliorum were not found together.
CalFlora makes reference to E. funerea occurring in the Kern County via computer program link to an older name E. californica var. funerea; however, the species might be expected in Kern County, possibly in the El Paso Mts.; CCH has only one record of Ephedra from there, E. nevadensis. Indeed, E. funerea has been reported about 3 mi south of the Kern County line along Hwy 138 in Los Angeles Co., ~17 mi east of Gorman (Bartholomew, Boufford & Wood, 20 Apr 1985 (A356599 & --600 in CCH).
The following key is tentative due to species concepts in Ephedra that have varied among the treatments over time (Cutler 1939; Munz & Keck 1959; Stevenson in FNA 1993; Griffin in JM1 1993; Ickert-Bond in JM2). Although the number of scale-leaves imply a diagnostic feature for recognizing species, its application probably does not reflect the natural relationships as evident from their variation in shape, texture, color, connation, and persistence as seen within a "species" from different locations and also from comparing species descriptions among the floristic treatments. Further, species of Ephedra do not generally fall into the ecogeographic patterns of other plant species as noted for E. californica in MCV2. Detailed field studies during coning periods are needed. As reported by Cutler (1939) about two-thirds of the herbarium specimens he studied could not be confidently identified, while he also indicated that his key was "artificial."
Key to Species of Ephedra
1. Plants low and sprawling, vine-like, much broader than high, branching
mostly alternate, occasionally opposite, rarely whorled; pollen and seed
cones on long stalks; rare, Erskine Canyon and E Sierra Nevada along
Pacific Crest Trail northeast of Tehachapi.................. Ephedra cf. pedunculata
1. Plants mostly upright except creeping woody stems, or if broader than high,
branches stiff and whorled................................................................................. 2


2. Intricately and/or divaricately branched, angle of branching 45–60
(-90)⁰; branches grayish green to pale olive green to whitish green.................... 3


3. Stems ±4-angled; yellowish green; nodes with dark brown collar;
Piute Mts. (Stevenson Peak, near Caliente, Erskine Canyon).......Ephedra sp. A
3. Stems rounded in outline, grayish green; scale-leaves white-scarious,
deciduous; node collar white with narrow strip of brown.............................. 4


4. Seeds 2, broadly ellipsoid, 6–9 mm, ~2 × as long as wide, brownish,
flattened on side; scale-leaves in 2's .......................... Ephedra nevadensis
4. Seed 1 (-3), narrowly ellipsoid to bottle shaped, ~3× longer
than wide; scale-leaves in 3's.................... ........... .................... Ephedra funerea


2. Photosynthetic branches erect-parallel to spreading < 45⁰, yellow to dark green;
(except rare form of E. nevadensis)................................................................... 5


5. Scale-leaves in 3's, spreading and curling (recurved) away from stems—
from tips to near base; seed 1, ellipsoid to obovoid......... Ephedra californica
5. Scale-leaves in 2's, clasping and deciduous or persistent and curling
away from stems; seeds 1 or 2........................................................................ 6


6. Branchlets gray to bluish green (glaucous); low spreading plants
with long horizontal branches, wider than high, often
with many whorls of short widely divergent branchlets; Kern River,
south end of Lake Isabella............................................. Ephedra cf. nevadensis
6. Branchlets yellowish green to dark green, mostly erect....................................... 7


7. Erect green shoots with whorls of relatively short leafy branchlets appearing
deciduous; scale leaves yellowish orange to green, nearly overlapping on
short shoots, the internodes thus relatively short or not evident; Piute Mts.
near Stevenson Peak and on Piute Mt., also Inyo Co near Death Valley NP
and Washoe Co., NV.................................................................... Ephedra sp B
7. Scale-leaves scattered, dark brown to gray; branchlets long,
not appearing deciduous..................................................................................... 8


8. Whorled branches spreading apart and upwards from nodes of slender
creeping stems, or branches single from a main horizontal branch,
often flexuous; seeds conical, acutely tapered to apex (possibly in
Kern County)....................................................................... Ephedra fasciculata
8. Plants with mostly erect brown woody and green photosynthetic stems
closely parallel to one another; seeds flat on one side, or conical, obtusely
tapered and angled to apex................................................................................... 9


9. Scale-leaves tightly clasping stems, often with salmon-orange mid-stripe
and swollen bulbous base, obtusely tapered to a rounded or pointed
apex, occasionally with green photosynthetic linear segments extending
from apex of sheath, not persistent, collar reddish brown, resinous; seeds
elliptic in outline, hemispherical on one side, flat on other side, angled
along margins, smooth, obtusely tapered to rounded apex; common and
widely distributed in Kern Co and elsewhere............................. Ephedra viridis
9. Scale-leaves loosely clasping with persistent lobes, with a broad green
mid-vein extending to a gray or brownish collar; seeds acutely tapered
to apex............................................................................................................... 10


10. Scale-leaves long tapered (setaceous) to apex, often persistent at tips of
stems; photosynthetic stems often bright greenish yellow; seed scales with
dark central oval region; seeds dark purplish or nearly black, exserted;
plants often with many whorls of short shoots, possibly
in Kern Co................................................................................... Ephedra cutleri
10. Scale-leaves cuspidate, spreading recurved, and also tubular connate
around stem, gradually expanded to where lobes separate, short triangular
to apex, or not evident; seeds brown................................................................ 11


11 Seed cone bracts three nerved, seeds 2; Apache Co., ne AZ near
Dennehotsco, and Squirrel Canyon in Kern Co (lacks persistent leaf
segments)................................................................................ Ephedra arenicola
11. Seed cone bracts with broad brown to green medial region......................... 12


12. Pollen cones stalked, the stalks longer towards apex of young shoots;
seed cone bracts fleshy, orange; possibly in Kern County............ Ephedra coryi
12. Pollen cones sessile; seed cone bracts not fleshy; reported from near
Kramer Jct. between Mojave and Tehachapi, and within 1 mile of
County line near Lancaster, observed in Jawbone Canyon; type
from Coahuila, Mexico............................................................... Ephedra aspera
Ephedra arenicola Cutler 1939 ("X E. arenicola," putative hybrid between E. torreyana and E. cutleri). Shrub to 1 m, with whorled branches, spreading ~35⁰; leaves persistent and opposite in type specimen, of two kinds as seen in E. aspera, (1) connate and slightly wedge-shaped with a prominent mid nerve, shortly broad deltoid to apex, and (2) cuspidate without mid nerve, acutely tapered to recurved apex; seed cones in pairs; lower seed bracts keeled, upper bracts 3 nerved; seeds acutely tapered to apex. Type from Apache Co., AZ, 5 miles south of Dennehotsco. Also recognized here to occur in Squirrel Canyon, Kern County; specimen from one plant collected, remarkably similar in development of paired seed cones, seed shape, and nerved bracts, but differing in the absence of leaves.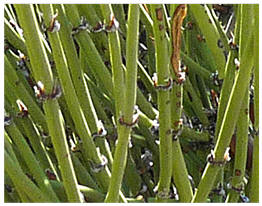 Ephedra aspera S. Watson 1883. [Ephedra nevadensis S. Watson 1871 var. aspera (S. Watson) L. D. Benson 1943]. Includes Ephedra clokeyi Cutler 1939 [Ephedra fasciculata A. Nelson 1934 var. clokeyi (H.C. Cutler) Clokey 1945]. Rough ephedra, boundary ephedra. Shrubs with stiff erect closely parallel branches, to 1.5 m; older stems with fissured bark, photosynthetic shoots rather thick, ~ 3 mm diam, dark green, yellow with age, rough and papillate, smooth and glaucous between ridges, branching opposite or in whorls of 3 or 4, at angles of ~35⁰ ; scale-leaves in 2's (rarely 3 per node), 1–3.5 mm long, united half or more of their length, persistent in the typical form (with seed cones), or the sheath splitting, fibrous, swollen at base; leaf collar brownish; pollen cones reddish brown, with broad rounded (elliptical) bracts; seed 1, conical, tapering abruptly near apex, or trigonal,, 5–8 mm, tan to chestnut brown. Widely distributed in deserts of the southwestern North America, mostly below 5,000 ft, generally Mojave and Sonoran deserts as far south as the Magdalena Desert in Baja California (Turner et al. 1995), to the Chihuahua Desert of New Mexico, Texas, and south into Mexico, also reported in the western Great Basin Desert. Type from the Sierra Madre in Coahuila, 40 miles south of Saltillo, Mexico [Palmer 1288, implied by Watson but not the only specimen referred to; lectotypified designated by Cutler (1939) with reference to specimen at MO (Tropicos.org. Missouri Botanical Garden. 22 May 2015 <http://www.tropicos.org/Image/45632>, low resolution, sheet with 2 specimens with different labels, specimen appearing to have seed cones annotated by Cutler as "TYPE "); isolectotypes GH, NY UC, US (high resolution image, 2 specimens with two labels, one with seed cone has persistent connate leaves, annotated syntype by Ickert-Bond, May 2002); the other with pollen cones, Palmer s.n., 1880, with handwritten annotation, reference to Cutler(?), "duplicate of type," lacks connate leaves]. Kern Co.: Two CCH records, N. Cooper, 19 Apr 1949, from County line west of Kramer along US Hwy.466 (Hwy 58), 2800 ft, and between Tehachapi and Mojave (Abrams & McGregor, 28 Jun1908, cited by Cutler 1939). Observed and photographed by me as shown here from Jawbone Canyon, 12 May 2011, identified by the persistent cuspidate leaves, but less connate than in the type, seed cones not observed.
Ephedra aspera—as treated by Ickert-Bond (JM2)—includes E. fasciculata, previously recognized in Munz & Keck (with reference to Cutler 1939) as a low often prostrate plant with flexuous branches, in sharp contrast to E. aspera they characterized as an erect plant with rigid branchlets. However, Ephedra aspera was not recognized to occur in California in earlier floras (Jepson, McMinn, Abrams), whereas E. fasciculata—that was recognized by Griffin (JM1)—was referred to as a synonym of E. aspera by Ickert-Bond (JM2). Ephedra fasciculata and the related E. clokeyi were distinguished from E. aspera by elliptical shaped ovulate scales and by the dark brown furrowed seeds in contrast to the orbicular scales and non-furrowed light brown seeds of E. aspera; E. fasciculata was then separated by seed length, 8–13 mm, in contrast to 5–8 mm for E. clokeyi (Cronquist et al. 1972; Munz & Keck 1959; Shreeve & Wiggins 1964).
Although the circumscription of E. aspera has varied among different floristic treatments, key features in common are the usually single seed and paired leaves in contrast to the two seeded "cones" of E. nevadensis and E. viridis, also with paired (opposite) leaves, in further contrast to the whorled leaf arrangement in other species. Branchlets of E. aspera are often numerous—in fascicles—growing erect, closely parallel, and rigid. Ephedra viridis is most similar in habit, and difficult to distinguish in sterile leafless plants.
The type specimen of E. aspera (high resolution image at Smithsonian Online Herbarium Collections) exhibits two kinds of leaves, one leaf type appears associated with vegetative growth as seen near base of specimen where persistent leaves clasp and recurve from their tips; the other more sheathlike and connate to ~7/8 of their length, which can be observed at base of seed shoots and on young shoots, in the axils of old leaves on older shoots as well as at apex of shoots. This latter type of scale-leaf is distinctive but rarely seen in herbarium specimens identified E. aspera. The type specimen also accompanied by a specimen with pollen cones that does not have the leaf types of the seed cone specimen, although some immature pollen cones have spreading withered leaves; while also differing from the type of E. viridis in the firmness and color of the cone scales, which appear reddish brown and not shriveled (from drying).
Ephedra peninsularis I. M. Johnston 1922, described from Magdalena Island but interpreted to be widely distributed in Baja California, has been generally treated as a synonym of E. aspera; however, the type (isotype, GH, HUH & Libraries, image) shows less tapered pollen cones with well exserted anthers, and an Ephedra I collected on the Vizcaíno Peninsula near Puerto Nuevo was noted to be unusual for the blood red sap.
Not surprisingly, the geographical ranges of these species have also varied according to different authorities. Stevenson (FNA 1993) showed E. aspera to reach its northernmost distribution along the U.S./Mexico boundary—from California to southwestern Texas; hence, the common name boundary ephedra. Griffin (JM1 1993) indicated a much wider range for E. aspera—a more northern occurrence, extending into the Mojave Desert as previously recognized by Munz & Keck (1959). The treatment by Ickert-Bond (JM2) extends the range further north—into the Great Basin Desert of the California flora for which there is a specimen in CCH (Ickert-Bond annotation)—that reported its collection site 25 miles east of Lee Vining, 2296 m. Ephedra aspera also occurs southwards into mainland Mexico and along the Pacific Coast in Baja California Sur (Turner et al. 1995; see also CIRH).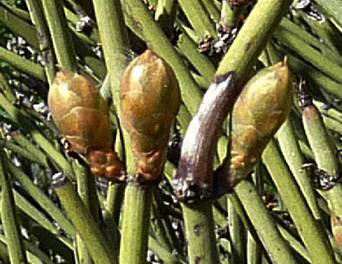 Ephedra californica S. Watson 1879. Desert tea, California joint fir. Shrub with numerous densely tufted erect green stems (caespitose) from a short woody base, or small tree with a definite single trunk; photosynthetic stems (branchlets) green to yellowish green, most branchlets spreading ~45°, often not closely parallel to one another; scale-leaves in 3's (rarely 2, or 4), united at first, with a greenish or reddish brown medial thicker part, soon splitting with the tips curving backwards (recurved), the basal collar bulging (typical form), darkening with age; cones usually 3 per node; seed solitary, globose, ellipsoid or obconical, 1–1.5 (-2)× as long as wide. Scattered occurrences in diverse habitats below 4,000 ft; grasslands of Inner South Coast Ranges near Gilroy in California, coastal strand near San Diego, Peninsular Ranges in California and then south in various habitats to near Bahía Tortugas, Vizcaíno Peninsula (CIRH, Turner et al. 1995), and also Panamint Range, eastern ranges of Death Valley near Nevada state line, sand dunes and washes in the Mojave Desert, southern Sierra Nevada in Kern Co., Tehachapi Mts., and then south to the Sonoran and Chihuahua deserts of southeastern Arizona. "Californica joint fir scrub" (alliance) recognized in MCV2 when ≥ 2% absolute cover in the shrub layer, noting also that the ecology of the species ispoorly known. Type from San Diego Co., Jamul Valley. Kern Co.: "Occasional in the California juniper belts from Recruit Canyon and the Panorama Hills in the southern Temblor Range to the east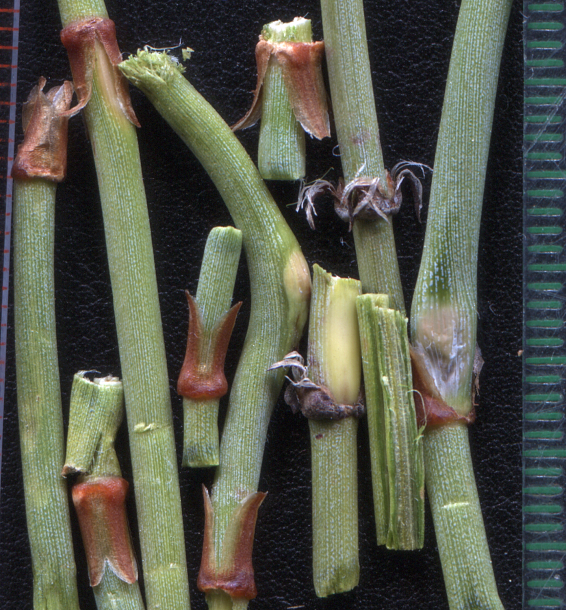 end of Cuyama Valley (where unusually large plants grow on the sand flats), and along the sandy foothills on the east side of the valley from the mouth of Kern Canon south to Comanche Canyon in the Tejon Hills," 73–1,300 m (CCH excluding suspected misidentifications). Also common on steep loose sedimentary rocky banks in Caliente Creek Canyon (pers. obs.). Infusion of branches taken by native Americans to purify blood, improve appetite, or to relieve stomachaches from eating too much, and for kidneys (Moerman).
Scale-leaves in typical form of E. californica appear to age dark brown and pucker at the base as the tips curve back away from stem as also seen in E. aspera (e.g., CalPhotos image 1359, Keir Morse from San Benito Co.; WBA image, Spjut from Baja California). In other plants of E. californica from the desert regions, scale-leaves are not puckered at base, rather they appear to slough off entirely. Examples are CalPhoto images by Keir Morse from Anza Borego, and by James Andre from the Old Woman Mts. in San Bernardino Co. Leaves of plants in Kern County plants such as shown here from bluffs along Caliente Creek, were not found with cones as seen during March but in late July after a summer rain.
Ephedra coryi E. L. Reed 1936. Shrub forming clumps from rhizomes, photosynthetic shoots often with whorls of long shoots; olive green; pollen and seed cones stalked; New Mexico and Texas. Type from Brownfield, Texas.
Ephedra cutleri Peebles 1940 (new name for Ephedra coryi var. viscida Cutler 1939). Navajo ephedra. Shrub forming clumps from rhizomes, photosynthetic shoots often with whorls of short shoots, bright green, yellowing with age, viscid due to tiny transparent resin droplets; leaves opposite, setaceous, persistent, connate to 1/2, thickened at base, long tapered to apex, drawn out part 5–8 mm; pollen cones shortly stalked; seed cones on stalks 5–25 mm, generally longer towards base of shoots, scales with a broad dark greenish mid region, ¾ or more of a scale, and with narrower hyaline margin; seeds 2, elliptic in outline. Sandy and .rocky slopes and flats, Four Corners region. Type from Apache Co., AZ, 10 miles west of Rock Point. Fresh samples collected and extracted by water by the College of Pharmacy at the University of Arizona during the 1960's showed antitumor activity, one of the entire plant collected Aug 1961 was found active Jul 1971 in Sarcoma 180 (mouse), and another collected Jul 1962, divided into root—active (Sep 1965) in Friend Virus Leukemia (mouse)—and stem-leaf—active (Apr 1965 ) in Dunning leukemia ascites (rat). Active agents unknown.
Ephedra fasciculata A. Nelson 1934. Fasciculate ephedra. Shrubs generally broader than high, up to 1 m; the erect branches arising in whorls or as singles from horizontal branches, spreading 30° to 45°, pale green, aging (or drying) yellow, smooth except for being grooved; leaves opposite, 1–3 mm, connate 1/2–3/4; membranous, brown, shredding and graying with age, ± persistent, obtusely tapered to apex; pollen cones 2–several per node, 4–8 mm, sessile; bracts 4–8 pairs, light yellow, obovate, 2–3 × 2 mm, membranous, bracteoles exceeding bracts; sporangiophores 3–9 mm, ¼– ¾ exserted, anthers 6–10, sessile to short-stalked (microsporangia less than 1 mm); seed cones 2 or more per node, 6–13 mm, sessile or shortly stalked; bracts 4–7 pairs, elliptic, 3–7 × 2–4 mm, membranous, light brown to green, thickened along center and at base, margins entire. Seeds 1(–2), ellipsoid, 5–12 × 3–5 mm, light or dark brown, longitudinally furrowed, conical, acute to apex. Dry rocky slopes, washes, and sandy soils; 300–1200 m; AZ, CA, NV, UT. Included under E. aspera in JM2, recognized in previous California floras and in FNA. Type specimen lacks cones, thus, the taxonomy of the species questionable. Possibly in Kern County, distinguished from E. aspera by less scabrous twigs, pale colored pollen cones, and "furrowed seeds", and perhaps by long unbranched arching stems.
Ephedra funerea Coville & C.V. Morton 1935 [E. californica var. funerea (Coville & C.V. Morton) L.D. Benson 1943]. Death Valley ephedra, Death Valley joint fir. Similar in habit to E. nevadensis in the intricate nearly right-angle branching, differing by the papery scale-leaves in 3's and ± continuous whitish lines on ridges that give the stems their whitish green (gray) color. Seeds described as usually 1 (but up to 3), bottle-shaped (illus., Stevenson in FNA 1993) to ellipsoid (FNA). Nodal swellings often present, as also in other ephedras, caused by endophytes or gall midges. Type from Furnace Creek Canyon, ~3,200 ft. This species has been considered endemic to the Death Valley region (Cutler 1939; Munz & Keck 1959); however, the treatment by Ickert-Bond (JM2) expands its range to Anza Borrego State Park and western Arizona. CCH data (specimens annotated by Ickert-Bond) suggest it occurs frequently on limestone, gypsum, margins of alkali dry lakes, and among lava rocks on summits. Death Valley joint fir scrub provisional shrubland alliance in MCV2, the species thus appearing common in parts of the Kingston, Mesquite, and Nopah ranges. Collections reported near Kern County are from lower slopes of Newberry Mt., just south of Newberry off Interstate Highway 40, from Iron Mt—between Barstow and Kramer Junction—and from the Argus Mts, and from near Gorman along Hwy 138 about 3 miles south of the Kern County line. Thus it may be expected in Kern Co., possibly in the El Paso Mts. where Ephedra nevadensis is also reported (Twisselmann). The two species can occur together as near Pahrump, NV (pers. obs.).
.Ephedra nevadensis S. Watson 1879. Nevada ephedra, Nevada joint fir. Stems "pale" green, glaucous, aging gray green, rigid, densely and intricately branched, many branches in whorls spreading nearly at 90⁰, but generally described at 45⁰ (Cutler 1939); leaves 2 per node, generally scarious, connate ~1/2, free portion triangular (deltoid) to pointed apex, soon deciduous, leaving a white collar around node; seed cones appearing in the spring, on a short stalk, or not stalked in which both sometimes found in the same population, often clustered among whorled branches, bracts glaucous, largest broadly ovate, concave; seeds usually 2, elliptical in outline, outer side hemispherical, inner flat, tapering obtusely to short rounded to pointed apex, maturing brown. Primarily deserts of California to Arizona, Utah, and Oregon. Nevada joint fir scrub recognized in MCV2 when dominant and ≥ 2% absolute cover in the shrub canopy, ranging in elevation from 1,000–1,800 m. Type from Smoky Valley, 5500 ft (1676 m), Esmeralda Co. west of Tonopah, NV [Lectotype, S. Watson 1108, July 1868, with pollen cones, designated by Cutler 1939, GH00022597, also annotated lectotype by Ickert Bond, May 2002. Type sheet at GH includes three additional specimens on herbarium sheet: (1) syntype from "Pah Ute Mountains," 5,000 ft, with mature seed, determined as E. viridis, Ickert-Bond annotation, May 2002, GH00022597, but here identified E. nevadensis), (2) Eagle Lake, Lassen Co., CA , annotated E. viridis by Ickert-Bond, May 2002, but here identified E. californica, and (3) locality unclear, det. by Ickert-Bond as E. viridis as also determined here. Isolectotype at YU on a single sheet]. Kern Co.: Frequent in the Mojave Desert region of Kern Co on rocky slopes of the Eastern Sierra Nevada, especially along the Pacific Crest Trail (PCT) northeast of Cameron where occurring with California juniper and sagebrush, but also frequent in creosote scrub east of California City near the San Bernardino County line. Twisselmann reported Nevada ephedra as occasional to scarce on rocky or gravelly slopes in the Rand and El Paso mountains, and on sand dunes around the Muroc dry lakes. 609–1524 m (CCH) . Image above from PCT near Cameron, ~1,500 m. Forma rosea Cutler (1939) distinguished by the "roseate bracts" and seeds < 5mm; type from Pyramid Lake, NV; one other specimen reported from Willow Springs in Kern County (Cutler 1939).
Ephedra cf. pedunculata Engelmann ex S. Watson 1883. Clap-weed. Low sprawling subshrub to 4 m across and 1/2 m high, predominantly of green photosynthetic stems; woody stems prostrate, slender; photosynthetic shoots, branching abundant, alternate or opposite, rarely whorled, lax, generally diverging 45–70° on ascending shoots, 90° from prostrate stems, typically gray-green and glaucous but bright green in Kern County plants; leaves opposite, 1–3 mm, connate 1/2–2/3; pale green or scarious, yellowish with age, the lobes narrow deltoid, deciduous, obtuse to pointed apex. Pollen cones in Kern plants seen only immature, terminal on short to long stalks, described by Stevenson (FNA) as 4–8 mm with bracts opposite, 6–12 pairs, light yellow to reddish, obovate, 2–4 × 2–3 mm, membranous; sporangiophores exserted to 1/2 their length with 4--6 stalked microsporangia. Seed cones 1–2 per node on short to long smooth peduncle, ovoid, 6–10 mm, bracts 3–6 pairs, 3–4 × 2–3 mm, ovate, inner pairs maturing succulent red. Seeds 2, ellipsoid, 4–10 × 2–4 mm, brown, smooth. Generally known from dry, sandy to rocky areas and slopes, 100–1000 m; northern Mexico to Texas. Lectotype (Palmer 1291, MO) designated in Cutler (1939) from Uvalde Co., Texas, 90 mi nw of San Antonio.
Kern county plants share character features of the vine-like habit, branching, and stalked cones. The plants are referred to Ephedra cf. pedunculata because it remains to be determined whether fruiting scales in Kern County plants are fleshy at maturity as described for the species. Also, the sprawling habit of the plant on ground differs from what is generally described for the species as climbing on shrubs. A specimen in the Utah Valley State College Herbarium, Barnes 5482, reportedly collected in San Juan Co., Utah, identified E. viridis var. viridis, has similar wide-angle branching but differs from Kern County plants in having yellow green shoots, sessile cones (immature) and narrowly tapered persistent leaf lobes.
. Ephedra viridis Coville 1893. Green ephedra, Mormon tea. Stems green to bright yellow-green, numerous and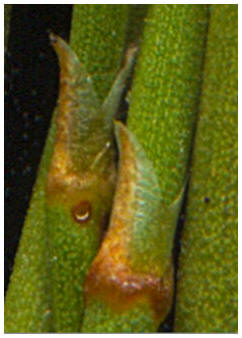 erect,
all mostly parallel to one another, spreading at an angle of ~30°; leaves 2 per node, pale orange in lower half, or with pale orange median strip, hyaline above, free to near base or united to 4/5 their length, clasping to adpressed, not spreading, deciduous except for basal thickened ring which turns reddish brown to blackish resinous. Male cones spreading, with pale yellow or yellowish green to flesh-colored bracts, sporangiaphores and sporangia; female cones erect and stalkless or on short to long stalks (>5 cm); seeds two. Widely distributed in California chaparral and desert, 1,000–7,000 ft, to Utah, New Mexico, Colorado, Oregon. Mormon tea scrub recognized in MCV2 when ≥1% absolute cover and >30% relative cover with other species as seen on hillsides above Sand Canyon Road. Type from above Crystal Spring, Coso Mts., Inyo Co., CA [olive green stems with pollen cones, no new leaves, persistent leaf lobes at apex of some shoots; Coville reportedly could not find plants with seed; syntype Xantus 112 annotated by Ickert-Bond E. viridis (US) and E. aspera (NY)]. Kern Co.: Occurs most often in pinyon-juniper forest regions of the Sierra Nevada, 360–2,028 m (CCH); also common in grey pine-interior oak woodland along the Kern River near Lake Isabella. Noted by Twisselmann to be especially common in the pinyon woodland around Frazier Park. CCH records also from the Temblor Range and Inner Coast Ranges.
Ephedra viridis is generally recognized by the erect closely parallel stems. Variation in the shape and the degree to which scale leaves are united suggest distinct varieties or species. Forms with long stalked cones as shown in the adjacent image from Frazier Park (May 2012), which might be interpreted by some as belonging to E. coryi, even though cones of E. viridis are described as not stalked to shortly stalked, also occur elsewhere such as in New Mexico; they are considered a variable feature of E. viridis (Sivinski 2010). However, other variation such as seen in the Piute Mountains include two tentatively undetermined species. One has erect branches, young brownish scale-leaves developing at shore intervals, and short whorls of branches that appear deciduous (Ephedra sp. B), and a second has divaricate branches that are 4-angled (Ephedra sp. A). Images of both are presented above. Plants on rocky benches above the Kern River just south of Lake Isabella have longer transparent scale-leaves with photosynthetic leaves.